January wines of the month 2018
1st bottle red: Cortijo Rioja 2016
For the wine snob:
This 100% Tempranillo originates from the Rioja Alta DOC (Zone 3) of Spain.  This estate grown wine comes from the town of Hormilla at an approximate elevation of 1,865 feet and 2,067 feet respectively.  Fun fact:  Cortijo means "cottage" or "shack" in reference to these types of wineries often make better wine than fancy chateau type wineries.  Further, Don Sancho de Lodono is proud that they allocate all of their resources toward the grapes rather than a fancy tasting room, chateau, etc.     
For the rest of us:
This is a bang for your buck fantastic raspberry/spicy dark berry gem.  You should get a case of this ,wine to have as a "go-to" party wine that everyone will enjoy.  Oh it's not a Cab or Pinot.  Yeah it's Tempranillo, the newest, most popular grape for the sophisticated man/gal.  Best served with good friends and a burger off your family's grill.
---
1st bottle white:  Celler Vilafranca NV 'Castellar' Cava DO
For the wine snob:
This blend of Xarel-lo (20%), Macabeu (40%), and Parellada (40%) originates from the Penedés region of Spain.  Couple fun facts:  Castellar only makes wine with the best 40% of its grapes.  The rest is sold to neighboring winemakers.  Also,  This wine is aged for 12 months on the lees; by law all cavas must be aged for 9 months on the lees.  Case production of 10,000.  6,000 is allocated for the United States.
For the rest of us:
Castellar consistently puts out a quality bang for your bug Cava that never disappoints.  If you are looking for a crisp, green apple, slightly sweet, and bubbly wine, this is for you!  If you were to put it in one word it would be, "refreshing."  This wine is best served at your next gathering of friends with appetizers of any sort.  
---
2nd bottle red:  La Manarine Cotes Du Rhone 2015
For the wine snob:
This 100% organic Grenache Noir originates from the Cotes du Rhone of France.  Vines have an average age of 35 years which make them younger but not young by contemporary definition.  The wine is bottled without filtration after 20-24 months of "elevage."
For the rest of us:
Are you familiar with the spicy, dry, dark fruit sensation known as Grenache Noir?  This is what is great about French wine.  It is smooth, approachable, and fantastic in every way.  This is a wine best served with BBQ and good friends!
---
2nd bottle white:  Bolzano 2016 Pinot Grigio, Alto Adige DOC
For the wine snob:
This 100% Pinot Grigio originates from the Trentino-Alto Adige DOC which is surrounded by the Tyrol mountains.  You should be aware that this winery shares a border with Austria and with it, many of the winemaking traditions.  The winemaker, Stephan Filippi, is dedicated to a traditional approach.  Fermentation takes place in 100% stainless steel.  
For the rest of us:
This spectacular wine will make you forget about the snow outside.  Yeah, we are coming up on the dead of winter.  Whatever,  close your eyes and try this refreshing, crisp, apple and pear joy of a wine.  The acidity on this wine brings great structure to a very light wine.  Best served with light fare or no food at all.  Curl up with man's best friend by the fire and sip your winter away!
---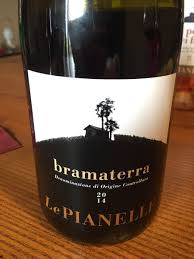 1st bottle reserve red:  Le Pianelle 2012 Bramaterra DOC
For the wine snob:
This organic red blend of Nebbiolo (80%), Vespolina (10%), and Croatina (10%) originates from the Bramaterra DOC Piedmont region of Italy.  The grapes were sourced from both the Brusnengo and Le Pianelle vineyards.  Several hailstorms caused  the winemaker, Cristiano, to harvest early to preserve aromas and freshness.  This wine is aged in oak tanks for 20 months.  Case production of 302.      
For the rest of us:  
A balanced Nebbiolo at it's finest.  If you are not familiar with Nebbiolo, this is the wine to try.  Nebbiolo is extremely dry.  However, with the blending of Vespolina and Croatina, this wine is an unbelievable combination of dark fruit and amazing dryness.  This is not the wine for you Pinot only drinkers.  You need to expand your comfort zone and embrace elegant dryness.  Best served with anything truffle…bring it on! (oh, and good friends!)
---
---
2nd bottle reserve red:  Alvaro Palacios 2015 Gratallops, Priorat DOC
For the wine snob:
This biodynamic estate blend of Garnacha (85%) and Carignan (13%) and White grapes (2%) originates from the Priorat DOC of Catalunya, Spain.  Alvaro Palacios comes from a rich family history of winemaking.  He is highly regarded as the top wine producer in Spain.       
For the rest of us:
So I hope you enjoy unbelievable wine.  Oh, you do?!  Yeah, this is a spicy dark fruit sensation with the perfect dryness.  No, It's not going to fit your standard suburban Cab Sauv profile.  It requires you to extend yourself a bit.  It is worth the exploration.  Put your hands together for this splurge bottle.  Best served with only your best friends and a really nice steak.