2020 April Wines of the Month
1st bottle red:  2017 harvey & harriet, Paso Robles
For the wine snob
65% Cabernet Sauvignon, 20% Syrah, 6% Petite Sirah, 5% Malbec, 4%Petit Verdot.  Aged 80% in New French Oak, 20% in Neutral French Oak.  Eric Jensen of Booker Vineyard created this wine in honor of his parents.  In a world of overpriced Cabernet blends, Eric's hard working , honest, salt of the earth parents would have never been able to drink a decent wine.  A world class wine for everyone who appreciates high quality without the high price tag. =)
For the rest of us:
 A lively , deep ruby appearance.  Aromas of vanilla, cedar and dark forest spicy fruits.  Silky and smooth with black cherry, cassis, nutmeg and cinnamon notes.  Quite simply, this wine is yummy!  This one overdelivers to say the least, so be prepared to be impressed!  harvey & harriet is big and bold and a big fruit bottle of greatness from Paso Robles and Eric Jensen.
---
1st bottle white:  2019 Three Brooms  Sauvignon Blanc, Marlborough
For the wine Snob:
Nothing to see here – it's truly all about the fruit. If it's possible, the 2019 winemaking notes on this wine are even more minimal than previously. The fruit was macerated at seriously cold temps, then we impart our own new world interpretation of battonage resulting in extended lees contact for up to 3 months. A quick filter and a month in the bottle and that's the art of Three Brooms. A wine that should enjoy the test of time rather than surviving or enduring it.
For the rest of us:
On the nose, the 2019 Three Brooms has all the usual suspects of currant leaf, kiwi fruit, a dash of passionfruit, and the finesse of minerality that we've come to expect. This year however, there are a couple of additions including some heady dried herb notes and some flintlock smoke. It is so "Three Brooms" In the mouth, the attack is bright and fresh but with amazing intensity. Intensity of what? Fresh, kiwifruit, a twist of passionfruit and a blanket of creamy texture overall.  Rich, balanced, textured and complex. This wine is, at the same time, a massive contradiction of freshness and richness, lightness and density, elegance and power; while being soft, rich, complex and beautifully integrated – and it's only six months old.
---
2nd bottle red: 2017 g3 Cabernet Sauvignon, Columbia Valley
For the wine snob:
The fruit for this wine was sourced from some of the premier upper blocks of the estate. The 2017 vintage allowed for optimal, long hang time in the vineyard. The wine was pumped over twice daily until a balance of color, structure, and flavor extraction had been achieved. Malolactic fermentation on oak smoothed and softened the wine. The wine matured for 16 months in barrels (with 30% new oak). Small amounts of Merlot were carefully blended to add depth and softness to the wine.
For the rest of us:
The 2017 g3 Cabernet Sauvignon opulently expresses aromas of red plum and cherry layered with notes of mocha, baking spices, and anise. The flavors on the palate open broadly with smooth notes of red currant and cherry that lead into a more focused and muscular back palate and finish. The wine resolves with pretty flavors of red cherry and mountain berries supported by fine tannins and intertwined with savory spices and minerality.
---
2nd bottle white: 2017 Sea Slopes Chardonnay, Sonoma Coast
For the wine snob:
The grapes for this Chardonnay were hand-sorted to include only the finest fruit, which was then gently pressed. Fermentation occurred in the ideal combination of stainless steel for vibrancy and freshness and French oak barrels which adds great texture and length to the finish. The wine completed malolactic fermentation, adding a supple richness. Prior to bottling it was aged on the lees with occasional gentle stirring culminating in a pure expression of Chardonnay from the etreme Sonoma Coast.
For the rest of us:
Fragrant aromas of zesty lemon with notes of honeysuckle and white grapefruit are immediately evident, followed by a pleasing mineral character and a touch of toasted brioche. On the palate it is fresh and lively with pronounced citrus tones and hints of white peach and apricot. The silky, smooth texture that reflects a deft hand in winemaking and the long, seamless finish completes beautiful Chardonnay.
---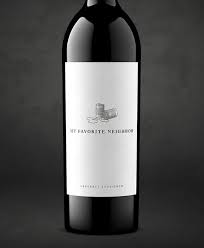 1st bottle reserve red: 2017 My Favorite Neighbor, Paso Robles
For the wine snob:
Release Date: May 2019 Vintage: 2017 Blend: 75% Cabernet Sauvignon, 22% Syrah, 3% Petit Verdot Accolades: 96 Points Jeb Dunnuck. e last ve Wine Advocate scores have a cumulative average 97 points Aged: 18 months in 70% new, 30% neutral French Oak pH: 3.86 Alcohol: 14.9%.  What started as an homage to Stephan Asseo of L'Aventure Winery and his Bordeaux roots quickly became an obsession. Stretching wide across the Westside Hills of Paso Robles are clay soils amazingly similar to those found in Napa and Bordeaux. Today, these special sites are farmed meticulously by the farmers who have become My Favorite Neighbors. With their dedication to the land, we are able to craft a world class wine without any shortcuts or compromises. Welcome to our Neighborhood.
For the rest of us:
My Favorite Neighbor opens softly with luscious, dark fruit notes, seamlessly crosses the mid-palate and leaves you with a lengthy finish of blackberry compote and espresso.
---
1st bottle reserve white: 2017 Fess Parker Rodney's Vineyard Viognier, Santa Barbara County
For the wine snob:
VINEYARD SOURCE 100% Rodney's Vineyard (Blocks K1, G & I) located in the Santa Ynez Valley COMPOSITION 100% Viognier BARREL AGING 100% barrel fermented & aged for 9 months in 7% new French oak.  TECHNICAL DATA : Brix: Alcohol: p.H.: T.A.: Production: 25.7-28.0 Brix 14.2% abv 3.42 0.711 g/100ml 1312 cases.
For the rest of us:
FLAVORS: Yellow peach White nectarine Apricot Citrus Lemon zest Vanilla Roasted almond
AROMAS: Honeysuckle Apricot Peach Baking spices Graham cracker Vanilla
---
2nd bottle reserve red: 2017 Stack House Cabernet Sauvignon, Napa Valley
For the wine snob:
The 2016 growing season started two to three weeks early and progressed perfectly through the ripening process. The lack of rain during flowering resulted in a plentiful crop and instead of having very warm temperatures over the summer, we had cooling patterns throughout the season that lengthened harvest.
For the rest of us:
Flavors of red cherry, graham cracker and candied fruit dance on the palate with a silky, smooth mouthfeel. The wine's solid tannin structure melts away slowly leaving a refreshing fruit finish.  Don't forget to let this one breathe.  Beautiful and big wine guaranteed to impress, thank us later, this one is a real treat!